Class Details
The who, what, where and when of your chosen class.
---
Class Summary
20 Oct 2019 - 15 Dec 2019
20 Oct 2019 - 15 Dec 2019
7 places left
at 8 sessions
$111.60
$13.95 per session
Most children love Rugbytots, but if you find after your first two sessions that it's not for you, we'll give you a full refund, including the classes you've attended and the Welcome Pack. Learn more in our FAQ.
This class is run by:
Rugbytots Mid-North Coast
Call 0422 277 670 or Email us
This class takes place at:
Andrews Park, Cameron Street, Wauchope
Cameron Street, Wauchope, NSW, 2446

Thomas Beverley
Hi my name is Tom, I live in Port Macquarie. I work as an Educator at Columba Cottage Preschool and have been with Rugbytots since 2017. Part of my role at the daycare is supporting children's gross motor development, I am passionate about introducing and developing key sporting concepts such as kicking, throwing, balance and muscle development. As an Educator I was immediately impressed with Izy, Bec and the whole program and wanted to be a part of it. Instantly I saw the benefits of Rugbytots as the kids happily practiced their colour recognition, counting, confidence, coordination and other key fine and gross motor skills all with a focus on teamwork and most importantly fun! I look forward to getting to Classes everyweek to see all of my young Rugbytot friends and meeting new ones as well.
---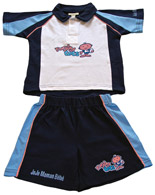 Arty says, "If it's your first time at Rugbytots we need to add our fantastic Welcome Pack"
If you are enrolling your child for the first time, a registration fee of $35 has been added to your order which will go towards your child's first Rugbytots rugby kit.
---
Class Calendar
Session #1
Sunday
20 Oct 2019
Session #2
Sunday
27 Oct 2019
Session #3
Sunday
3 Nov 2019
Session #4
Sunday
10 Nov 2019
Session #5
Sunday
17 Nov 2019
Session #6
Sunday
24 Nov 2019
Session #7
Sunday
1 Dec 2019
Session #8
Sunday
8 Dec 2019
Session #9
Sunday
15 Dec 2019