Class Details
The who, what, where and when of your chosen class.
---
Class Summary
20 Oct 2018 - 15 Dec 2018
20 Oct 2018 - 15 Dec 2018
8 places left
at 9 sessions
$125.55
$13.95 per session
Most children love Rugbytots, but if you find after your first two sessions that it's not for you, we'll give you a full refund, including the classes you've attended and the Welcome Pack. Learn more in our FAQ.
This class is run by:
Rugbytots Mid-North Coast
Call 0422 277 670 or Email us
This class takes place at:
Coffs Harbour - Toormina Sports & Recreation Club
Rex Hardaker Lane, Hogbin Drive, Toormina, NSW, 2452

Amy Buckman
Hi my name is Amy, and I am a Rugbytots Coach. I am 28 and live in Sawtell. Through the week I run my own business as a Personal Trainer. I have always been very active in sports, whether they be individual or team-based. My Dad was a surfer and a soccer player for Urunga and my Mum played hockey for Dorrigo, so I have grown up in a very active household. Throughout school, both primary and secondary, I was always representing the school for sport, often at state level. After discharging from the Australian Army, I went back to school and got my cert 4's in business admin, legal services and personal training. I became involved with Rugbytots in September 2017 and loved the energy and atmosphere that was provided for the kids to learn in. It was contagious. As a health and fitness instructor, I am very honoured to be a part of the Rugbytots family for what they are teaching and promoting - and that is life skills, staying fit and active and more importantly, having loads of fun doing something that you enjoy and really love.
---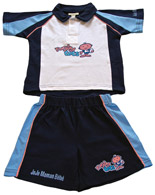 Arty says, "If it's your first time at Rugbytots we need to add our fantastic Welcome Pack"
If you are enrolling your child for the first time, a registration fee of $29.95 has been added to your order which will go towards your child's first Rugbytots rugby kit.
---
Class Calendar
Session #1
Saturday
20 Oct 2018
Session #2
Saturday
27 Oct 2018
Session #3
Saturday
3 Nov 2018
Session #4
Saturday
10 Nov 2018
Session #5
Saturday
17 Nov 2018
Session #6
Saturday
24 Nov 2018
Session #7
Saturday
1 Dec 2018
Session #8
Saturday
8 Dec 2018
Session #9
Saturday
15 Dec 2018