Class Details
The who, what, where and when of your chosen class.
---
Class Summary
29 Jul 2018 - 30 Sep 2018
29 Jul 2018 - 30 Sep 2018
9 places left
at 10 sessions
$139.50
$13.95 per session
Most children love Rugbytots, but if you find after your first two sessions that it's not for you, we'll give you a full refund, including the classes you've attended and the Welcome Pack. Learn more in our FAQ.
This class is run by:
Rugbytots Mid-North Coast
Call 0422 277 670 or Email us
This class takes place at:
Medowie - Yulong Oval
4 Kirrang Drive , Medowie, NSW, 2318

Sarah Harwood
I decided to join Rugbytots because it is a wonderful program that focuses all its attention to the children's coordination and development... And who doesn't love having fun with a footy! My biggest career achievement for sport would be included in the winning team for the national Indigenous championships in 2016. I also have a representative background in league tag, oztag, touch and tackle. I love coaching because of the bond that grows from the whole Rugbytots community. Being able to teach the correct skills for future sport is important and I'm proud to be a part of that growth.
---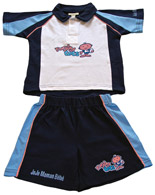 Arty says, "If it's your first time at Rugbytots we need to add our fantastic Welcome Pack"
If you are enrolling your child for the first time, a registration fee of $29.95 has been added to your order which will go towards your child's first Rugbytots rugby kit.
---
Class Calendar
Session #1
Sunday
29 Jul 2018
Session #2
Sunday
5 Aug 2018
Session #3
Sunday
12 Aug 2018
Session #4
Sunday
19 Aug 2018
Session #5
Sunday
26 Aug 2018
Session #6
Sunday
2 Sep 2018
Session #7
Sunday
9 Sep 2018
Session #8
Sunday
16 Sep 2018
Session #9
Sunday
23 Sep 2018
Session #10
Sunday
30 Sep 2018